Sleepover Review: Belgraves Hotel, London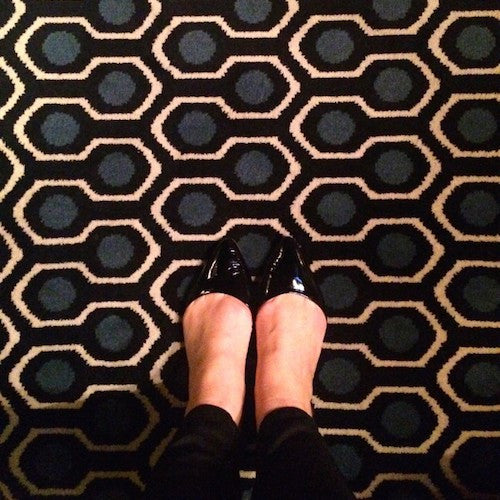 Belgravia isn't our usual bit of town but the idea of a one of our favourite New York hangouts, now open in London was enough to tempt us to get out of the West End and in to SW1 for a night.  Thompson Hotels have New York style cracked. Question is, how well would that translate to London and, more importantly - was this a good place to lay our heads and get a good night's rest?
Comfort level: 8 out of 10 - The room we stayed in was pocket-sized but comfy. What it lacked in space and soft furnishings it made up for in the form of the most important item in the room - the bed.  We loved the great quality mattress and pillows, all dressed up like a smart city gent in crisp white cotton and grey pinstripe flannel.
Noise level: 3 out of 10 - First the good news - it was lovely and quiet outside (helped by the fact we were nestled up on the fifth floor and at back of the building).  The bad news - even if it had been noisy outside we wouldn't have been able to hear it through the noise on the inside.  We might just have been unlucky, as the night we stayed coincided with a tour group of visiting Americans who managed to wake up the whole of the fifth floor as they headed back to their rooms at 2am from, what must have been, a great night out. They then proceeded to buzz in and out of each other's rooms for the next couple of hours. At 4.30am, when I'd had enough and poked my head of the bedroom door, they seemed genuinely surprised that someone might be trying to sleep.  To be fair - none of this was the hotel's fault.  But bedroom doors that slam shut, paper thin walls and wooden floors in all the bedrooms (not very high-heel friendly) were, in retrospect - not brilliant design ideas for a building designed for people to sleep in.
Light level: 8 out of 10 - No real complaints here but the blinds did allow light to create round the corner a bit so a long lie in might be a bit tricky.  Adding curtains would solve this in one go and soften the look of the room a bit maybe.
Temperature level: 8 out of 10 - Reliant on the aircon as the windows were sealed shut, but at least the air con was quiet and easy to control.
Care level: 8 out of 10 - A team of young, snappily dressed staff were hand to make sure everything ran smooth. Together with the great art and confident designed space they make the bar and the lounge feel like a cool places to hang out.  Definitely felt like we were in capable hands.
Total score: 2 ZZzzz's out of 6 - Sorry Belgraves - we love your style but, while you might be a great place to party, we're not convinced you're a great place to sleep. 20 Chesham Place, London, SW1X 8HQ, UK +44 (0)207 858 1000.
Book via www.thompsonhotels.com or via www.mrandmrssmith.com