NAUMI HOTEL, SINGAPORE - SLEEPOVER REVIEW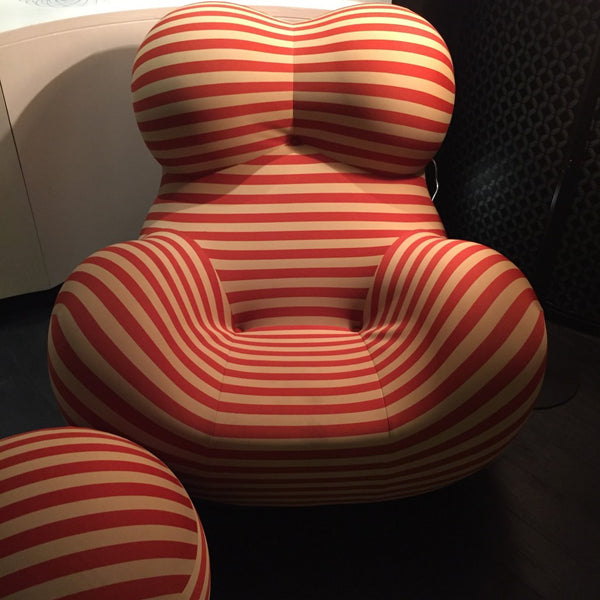 Small but perfectly formed. Singapore is a neat and tidy piece of Asian hustle and bustle. When it comes to hotels there's a load to choose from. All the big names are there and have stolen the show for a long time. But more recently a fresh new set of boutique style players are shining through. We checked in to one of them - Naumi Hotel in the business district to for a bit of city luxury among the skyscrapers.
COMFORT LEVEL 9/10 - No expense has been spared in terms of the room design and furnishings. As well as the very much appreciated big comfy bed (much needed after flying longhaul), our room had not one but two showstoppers. The first - Gaetano Pesce's UP5 Chair and it's little round ottoman pal (called UP6 of course). What a treat to have something so cool right there to play with. The second head turner - a beautiful bathroom with a circular bath. How perfect. While all the big stuff was in place some of the smaller details we missing so we can't give ten our of ten. But a very comfortable night's sleep is a certainty. PS> What ever you do, don't miss the 10th floor bar and pool. Float, sip and see the lights of Singapore all at the same time.
NOISE LEVEL 8/10 - Our room was on the 2nd floor so there was a little street noise but nothing too troublesome. No real complaints despite the hustle outside.
LIGHT LEVEL 9.5/10 - Not sure what those curtains were made from but not one dot of light got through. Hurray for that. Add to that a well lit room with a good mix of table and uplights. Well through through (and very much appreciated).
TEMPERATURE LEVEL 9/10 - Top notch aircon that kept us cool all night without sounding like a lawnmower.
CARE LEVEL 7.5/10 - Not too bad but there was a fair few rules to contend with when it came to things like ordering room service or asking for more water (still waiting on that one). But the desk staff were charming and helpful.
TOTAL SCORE 8.5 ZZzz's  / 10 - Cleverly designed with comfort in mind. A good city bolthole that feels calm the minute you step in the door.
We like.  
Naumi Hotel, 41 Seah Street, Singapore, 188396. Telephone: +65 6403 6000 Email: naumihotel.com or book via Mr & Mrs Smith