FREE SHIPPING ON ALL UK STANDARD ORDERS
OUR FIRST 2019 WIN ...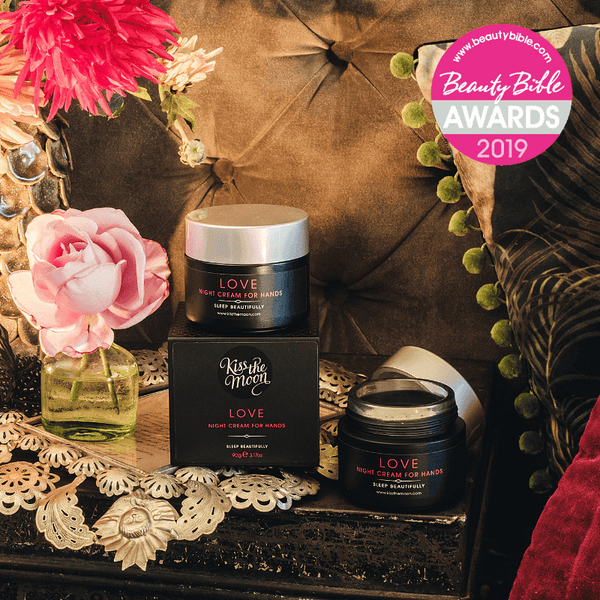 What a great way to kick of 2019! Our LOVE Night Cream for Hands has been awarded beauty bible 2019 another prestigious award, this time a Silver in the Hand Cream category of the Beauty Bible Awards 2019
The Beauty Bible has always set out to help take a shortcut through the beauty jungle – by testing real products on real women, just as you'd use them in real life. Since they launched their first book, The Beauty Bible, in 1996, they've had 26,000 women taking part in their trials – the biggest-ever independent survey of beauty products ever carried out in the world, with products submitted both from household name brands and from new, independent names. "This isn't about taking one journalist or one blogger's word for it. These are women just like you"
Here are just some of the lovely quotes from the panel of testers recruited to trial our hand cream:
"I adore this hand cream! I look forward to using it at night and my hands look so much better"
"This smells of roses and I really like the fragrance, although strong it is not overpowering. It has a very thick, almost waxy texture, extremely rich and smooth but it rubbed in easily. My hands are smoother and softer that they were when I started"
"Yes it works! As an overnight anti-ageing hand cream is perfect. It doesn't leave my hands uncomfortably greasy or with a residue in the morning. Definite improvements in appearance, skin tone evened out and restorative nourishing effect on my nails"
"Beautiful luxurious-looking packaging and a heavy glass jar, which looks great on the bathroom shelf / by your bedside. Hands feel soft, moisturised and lovely!"
"Loved the relaxing fragrance, it was nice to massage into my hands for a minute so I could inhale this. Definitely made my hands softer and smoother and nails healthy and pink"
Check out the other award winners here