COLOUR POP YOUR BATHROOM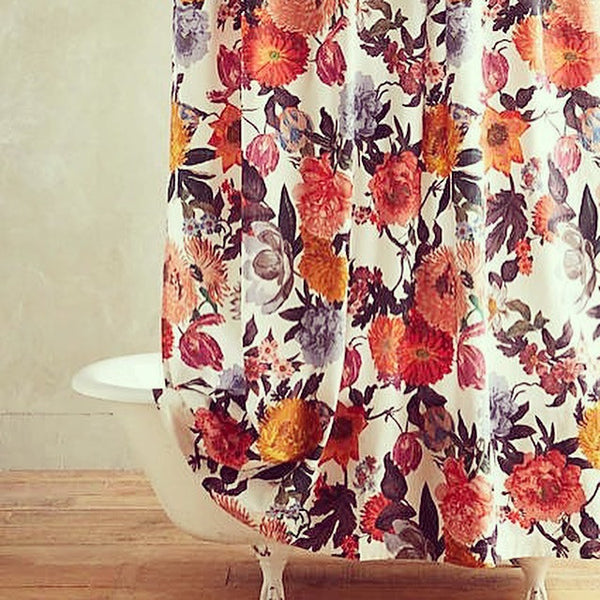 Our bathroom obsession continues. We love the fact it's the only room in the house where you can hide away, lock the door and have a well earned bit of peace and quiet. So we are always on the look out for ways to turn the littlest room in the house into a beautiful space to hang out in. Our latest thing is looking for ways to counter all that stark white porcelain and warm things up a bit with a splash of colour. Here are seven ways to turn your bathroom into a space that's bright and beautiful with a little colour pop...  
1. The Tiled Feature Wall
Wall tiles are a practical choice for a bathroom, but this image from insideout.co.au show how they can also be head turning beautiful. Rather than tile the whole bathroom, how about just picking out one wall and choosing something that packs a powerful colour punch. We love the fish scale pattern and the slight colour variation from tile to tile that makes the light dance round the room. It reminds us of a beautiful mermaid's tail. Find something similar from mercurymosaics.com    
2. Go bold with paint
Paint is the easiest way to bring colour into any room and the bathroom is no exception. There are a host of bathroom friendly paints available these days so any colour goes. Dark colours can work brilliantly, especially if your bathroom is small, making it look cosy and rich can often be a way to make it feel indulgent rather than pokey. Paint experts Farrow & Ball offer the following advice... "Small bathrooms are often painted white or light colours in the hope that this will make them appear bigger and brighter. This can work, however it can also create a dull room with little character, instead paint bathrooms in stronger colours and create a truly unique and glamorous space." We love the idea splashing around in deep sea colours and this emerald green bathroom from architectureartdesigns.com shows how effective this can be. If you want to play with the wall finish you can also look at varnishing as a final coat to make the wall waterproof and washable.
3. Get colour coordinated
Shared family bathrooms are often chaotic places with people rushing in and out and a constant search for toothbrushes and towels. So we love this idea from homemaking queen marthastewart.com of using colour to help keep things sorted and simple. Pick a colour palette you love and then coordinate accessories for each person - with towel tags to make things easy to hang, and super quick to find. carry the colour theme through to bathrobes, toothbrushes and wash-bags, even coat hooks. Whatever you need to keep everything sorted.    
4. Add some art
Art comes in all shapes and sizes so it should be easy to find something that works in the space you have. If you love to soak in the tub, having something gorgeous to look at while you ponder the world is a great idea. Most art that is framed will be fine in a bathroom so long as it's not too warm and steamy. If yours is, then think about something not paper based - hanging plates, a painted display shelf of shells or stones, a sculpture even. Anything that adds interest, colour and texture to the space and that you love to look at. Don't forget that the bathroom is your play zone so you get to break the rules. (Image by becauseimaddicted.net via pinterest)    
5. Accessorise 
Most bathrooms are pretty neutral spaces - great news as you can think of them as a blank canvas. The simplest way of all to add colour, especially if you are renting or if you don't want to break the bank is via accessories. Pick a colour theme and go for it. We love the grass green colour splash in this example from frenchbydesign.blogspot.com. For impact, stick to one or two shades and run with that Anthropologie and Designers Guild are good places to start looking for bright bits and bobs that cover all the colours of the rainbow.  When it comes to things like toiletries - put on display the ones that are good looking and a colour match and hide away the rest to avoid things looking confused or over cluttered.      
6. The Magic Carpet
This country house style bathroom comes to life with the addition of a bright and breezy rug. It works to break up the wooden floor and add warmth to the space. Because it's a kilim style run rather than a thicker wool one, it will dry quickly if it gets wet footprints on it as you step out of the bath and can be easily shifted to mop the floor. a lovely and practical solution we think. (Image from thecurtiscasa.com via pinterest)      
7. Decals
This might look like a row of ceramic tiles but actually they are adhesive decals that are stuck on to the existing tiles underneath to create a band of pattern and add a dash of colour to an otherwise neutral wall. Another easy and cost-effective solution when a full redecoration isn't an option. Or to help you test drive a colour scheme before committing. Clever huh? There are a host of colours and patterns to choose from. Walplus have some nice looking Mediterranean style ones to start you off...   Happy colouring everyone.   (PS. In case you were wondering, the bright & beautiful shower curtain in the lead photo is from anthropologie.com)