GUEST BLOG: Wild at Heart for Kiss The Moon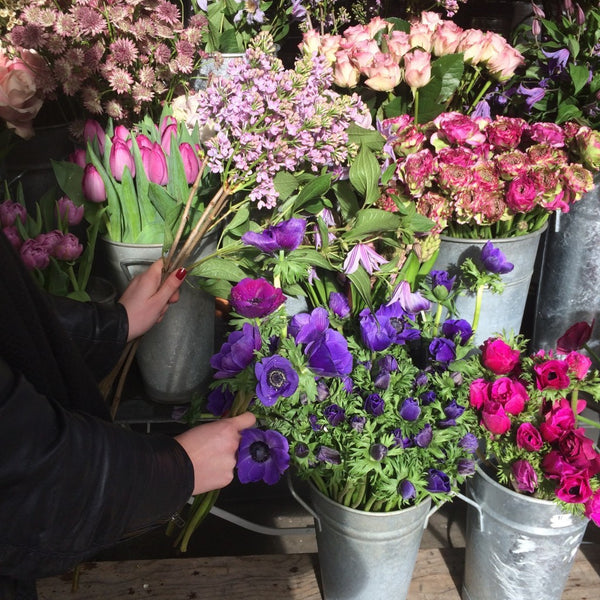 Want to know the thinking behind the gorgeous flowers the Wild at Heart team chose to make up our 'DREAM' bouquet? Here's the inside line...  
We were tasked with creating a beautiful bouquet of flowers inspired by the Kiss The Moon DREAM collection. The products have such a wonderful blend of ingredients that it wasn't difficult to get inspired. We were drawn by the lavender, bergamot, cedarwood and roman chamomile fusion, and chose flowers which we felt echoed the colours and the soothing effect the DREAM collection has; pure calm, zen and serenity.  
The DREAM bouquet has a soft palette of purple, peach, lavender and green and our florist chose anemones, ranunculus, roses, lilac, guelder, and clematis for our floral interpretation.
Ranunculus We love delicate multi-layered ranunculus, so this pretty flower was one of the first that our florist plumped for when crafting the 'Dream' bouquet. Renowned for symbolising radiance and charm, we felt that they would represent how you might feel after a great night's sleep, and chose a pale blush pink.  
Roses One of Nikki's favourite flowers, we always love bouquets with fragrant roses, they're so beautiful and always smell amazing – a real treat for any room in the house, but especially the bedroom. In this bouquet we went for something soft and peachy to complement the green and purple tones.  
Anemones Dark, deep and a little mysterious, the anemone is a flower which is full of personality. Of course, we had to go for purple as it seemed like the ideal choice for a collection centred around relaxation and sleep.  
Lastly, to offer the bouquet an added splash of colour, we included some lovely stems of guelder which is fresh, green and wild and some pretty lilac to mirror the lavender oil found in the DREAM collection. A dreamy bouquet to match Kiss The Moon's dream-inducing products, you can't fail to feel relaxed and rested when surrounded by nature.
Discover more from Wild at Heart by visiting their website: wildatheart.com